Home
Rock for Tots 2020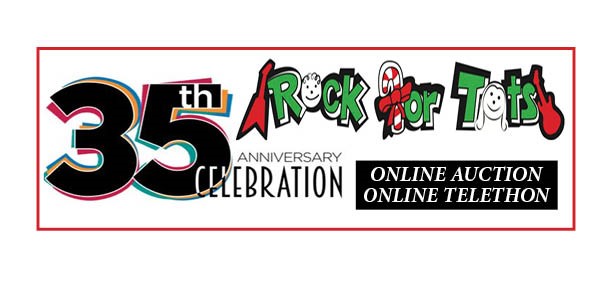 VIRTUAL ROCK FOR TOTS
Due to COVID-19 we are not going to be able to do our traditional concert and charity auction. We do have 35 children's charities that we have supported these many years and we are not going to let them down now as they need our help more than ever!
Helping 35 children's organizations & sponsoring 3 college scholarships.
ONLINE AUCTION
DECEMBER 13TH – 20TH
www.auctionohio.com
200+ items including electronics, memorabilia, toys, tools, bicycles, collectibles, furniture, appliances, flooring, autographed guitars, bands, weekend getaway, surprises, and more!
ONLINE TELETHON
DECEMBER 22, 2020
7:00PM – 9:00PM
Live from the Majestic Theatre
Details Coming Soon!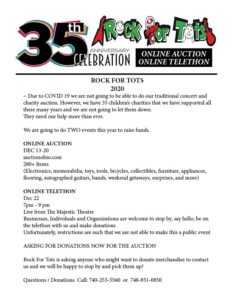 A New Record!
Rock For Tots had an outstanding year culminating in our 32nd Annual Concert & Charity Auction.
Our total for 2017, and new record is:
$53,440.00
100% of these proceeds will be distributed throughout our community to various children's programs. We will also be purchasing food, toys, clothing, supporting educational programs, mentoring programs, college scholarships, a college endowment program and much more.
THANK YOU to everyone who attended, the bands, donors, sponsors, advertisers, and our friends in the media who helped promote our events.
---
The mission of Rock for Tots is to positively impact our community by providing assistance, empowerment and opportunity to area children's organizations as well providing confidence building through the initiation and support of music, mentoring and educational programs.
---
Rock for Tots, Inc. is a 501(c)(3) non-profit organization based out of Chillicothe, Ohio. 100% of proceeds goes directly to 30+ organizations to help the communities of southern Ohio.
---